The paraphrased title from Mark Twain's famous quote is a philosophy that many of us spend our lives trying to fulfil. This goal was certainly harder to achieve when these words were articulated in the Victorian era, a time during which the career you chose early in life, or were born into, would more than likely see you through until retirement. Nowadays, we are blessed with an abundance of educational institutions and apprenticeship opportunities – and let's not forget the internet – that supply countless prospects for people who want to learn a new trade. This is especially important during times of heightened unemployment, such as economic downturns or the COVID-19 pandemic, when more people are anxiously scratching their heads, searching for the next contract.
With this in mind, we talked with two employees at TRB Lightweight Structures about their careers, and experiences of working at the company. 
Building the machines of the future
Probably the most important metric to measure job satisfaction is engagement – the cognitive and mental connection to your work. If you're into high performance, high tech – and sometimes even high altitude – machines, then TRB might just be the place for you.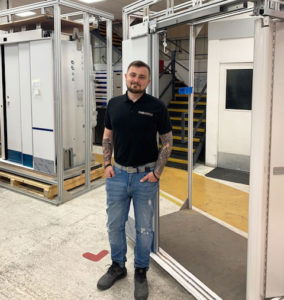 Andris Pranskus (pictured), Production Manager at TRB, is one such individual, and stumbled upon the company by a stroke of serendipity. He explained: "I literally found this company when walking past one day. The name grabbed my attention, so I googled it and applied for a position. The next thing I knew, I was hired. It was a crazy twist of fate, and really changed my life. I find the work stimulating and thought provoking, as well as requiring creativity at times, but the best part is that it often feels like a step into the future. We work with some ground-breaking companies for all types of vehicles, from cars and trains to drones and planes – even Formula 1 teams. It's exciting to be involved in this innovative landscape, especially knowing that what we do here will eventually be applied to wider applications, and affect all of us at some point." 
Symbiotic solutions
Making 'greener' products – through lightweight structures and processes – is at the core of TRB's ethos, and sustainability is a key driving factor for many employees at the company. Andris continued: "The whole world is trying to use less fuel and find more eco-friendly solutions. This is evident with the increasing popularity of electric vehicles, an area where we are heavily involved. Supporting this industry, as well as manufacturing lighter composite materials for trains and aircraft, is what we do every day. We are helping our clients to achieve their sustainability goals, which will save them money in the long term, and help the environment along the way. It's really a win-win situation, and it's great to be a part of that."  
Jacob Donaldson, who joined TRB as an apprentice in 2021 at the age of 18, added: "I studied electrical installation, and I am interested in mechanical processes, so it's fascinating to see the final application of the parts we're creating, and how they reduce overall weight and energy consumption. Although I haven't been at the company – or in the industry – for long, it's nice to know we are benefitting the world in our own way." 
Room for growth
Environmental altruism is a fine quality, but that alone is unlikely to keep ambitious personnel at a company for the long haul, unless it's combined with ample room for growth and personal development. This is one of the reasons that TRB invests so much in its employees, and is always on the lookout for not only highly trained engineers, but also for individuals with an eagerness to learn and evolve. 
Jacob certainly fits this description, and is already making inroads at the company. Jacob explained: "The dynamic nature of the work keeps me on my toes, feeding my motivation each day. But, more importantly, I'm getting the opportunity to learn new skills and really push myself. We have an initiative called the 'Skills Matrix', which encourages you to learn different aspects of the business, and provides a clear route for progression. This is really important for someone my age, and seeing the opportunities to grow in parallel with the business further inspires my work each day."   
Andris added: "The company has a history of supporting its employees to achieve additional qualifications – whether that's internally or with external institutions – to help them grow professionally. We have had several people start as production operators and become engineers, or other personnel get promoted to team leader or manager. The support is there, and the door is always open for people who are passionate and have career aspirations. Even as the company has grown, the internal culture has only improved, and truly become a global company with a family feel," he concluded.
To see TRB's current vacancies visit our Careers page